 …for creative language education
Crealang.?
crealang. research & innovation is an internationally operating Finland-based agency specialized in supporting language education through research-based technology innovations and a wide range of accompanying measures…
Philosophy
Language learning is a life-long journey, through different phases and stages, in various settings and spaces. By providing exceptional online-solutions…
Research & Development
Immersion Education | Multidisciplinary Learning Landscapes | Profiling & Analysis of Language and Communication Performance
Policy Dialogue | Curriculum Design | Materials Production | Accompanying Research | Analysis & Evaluation
Training & Consulting
Lectures & Presentations | Workshops | Advisory & Consultation Services | Documentation, Analysis & Evaluation Measures | Language Coaching |


Language Performance Laboratory
Individual Language Learning Profiles | Super-immersion through multimodal Simulation Solutions | Peer- and Self-Assessment | External Competence Analysis
Crealounge.
Preview & Gateway
Insights into our Simulation Adventures and other Online-Materials | Gateway to your own LangPerform-Simulation Collection
Instant contact to Crealang.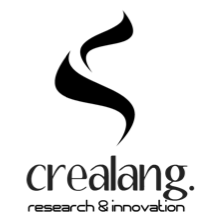 Crealang. Research & Innovation
Business ID: FI2639328-7
IBAN: FI82 5730 0820 6401 14
BIC: OKOYFIHH
© crealang. research & innovation 2014-2020